Councillor calls for streets to be named in honour of fallen soldiers

Expositor staff
Published on: January 17, 2020 | Last Updated: January 17, 2020 4:53 PM EST

17 Jan 2020

Capt. Richard Leary (left) and Trooper Larry John Zuidema Rudd were killed in action in Afghanistan. Postmedia

Two local soldiers who were killed in Afghanistan could soon have city streets named in their honour.

Coun. Richard Carpenter plans to introduce a motion to have the names of Trooper Larry John Zuidema Rudd and Capt. Richard Leary approved for use as street names.

Leary, platoon commander of the 2nd Battalion Princess Patricia's Canadian Light Infantry regiment, based in Shilo, Man., died on June 3, 2008 of wounds suffered when Afghan and Canadian soldiers came under small-arms fire in the Panjwaii district of Afghanistan.

Rudd was killed May 24, 2010 when an improvised explosive device detonated during a routine security operation 20 kilometres southwest of Kandahar City.

The city's engineering and planning departments are currently working on policies for the naming of municipal streets.

Carpenter's motional also calls for city staff to make a submission to the Dominion Command of the Royal Canadian Legion about the use of the poppy symbol to be displayed on any city street sign that is associated with the name of a veteran.

In addition, the motion directs city staff to arrange for a re-dedication of the Veterans Memorial Parkway on May 24. In November 2007, council passed a resolution to change the name of the Brantford Southern Access Road (BSAR) to Veterans Memorial Parkway.

See more...
'My soul is still in Rwanda': 25 years after the genocide, Roméo Dallaire still grapples with guilt
Social Sharing

CBC Radio ·
Posted: Apr 07, 2019 3:59 AM ET | Last Updated: April 7, 2019

VVi 15 Jan 2020

Retired Lt.-Gen. Roméo Dallaire speaks with The Sunday Edition host Michael Enright for the 25th anniversary of the Rwandan genocide. (Sinisa Jolic/CBC)

Retired Lt.-Gen. Roméo Dallaire does not mince words when speaking about Bill Clinton, who was U.S. president during the 1994 Rwandan genocide.

In an interview with The Sunday Edition host Michael Enright on the 25th anniversary of the genocide, Dallaire listened to a 1998 speech in which Clinton expressed regret for not acting sooner.

"We did not act quickly enough after the killing began," Clinton told genocide survivors in Kigali.

Dallaire rejects that assessment as downplaying just how thoroughly the U.S. ignored the crisis.

"Most of it is crap," he said.

"A month before the genocide, [Clinton] produced a presidential directive that stated that the United States will not engage in any humanitarian operation, unless it's in its self-interest," he said. "He had instructed his staff — and I've had the opportunity to meet with his subordinate staff — not to tell him what the hell was going on."

Dallaire was in charge of the UN peacekeeping mission during the genocide against the Tutsi minority. In 100 days, more than 800,000 Rwandans — most of them Tutsis and moderate Hutus — were slaughtered by the Rwandan military and Hutu militia.

In the months leading up to the genocide, Dallaire repeatedly warned the UN Security Council something catastrophic was brewing. But he said world leaders were too concerned with preventing peacekeeper casualties to let him act.

Dallaire returned to Canada devastated and angry, haunted by his inability to prevent the genocide or convince the international community to do more to stop it.

"I've been under 20 years, nearly, of therapy. They have tried, by every means possible, to take away my guilt," Dallaire said.
"Command is sort of like being a woman who's pregnant. You can't be pregnant during the week, and on weekends have a break … There is no, 'I did my best and I'm sorry.' You are held accountable for your command. There is nothing that can take that away, and should never be anything."

The Jan. 11 'genocide fax'

Dallaire was deployed to Rwanda with a small UN peacekeeping force in 1993. He was supposed to oversee a truce between the Hutus and the Tutsis, but his powers were tightly constricted by Chapter 6 of the UN Charter.

"You were supposed to be a facilitator, not a soldier, and the use of force was purely for self-protection," he said.

On Jan. 11, 1994, a commander told Dallaire militias were preparing to commit mass atrocities. He sent the UN Security Council in New York what is known as the "genocide fax," saying he was prepared to take action — even though it fell outside the mandate of Chapter 6.

I got the fastest response from New York that I ever got: 'You will not intervene. You will not put troops at risk.'

- Retired Lt.-Gen. Roméo Dallaire

"[The militias] would be able to kill a thousand Tutsis in 20 minutes, as they were planning. [We wanted] to try to go after the arms caches, and throw off the extremists from doing that," he said.

"After the 11th of January fax, I got the fastest response from New York that I ever got: 'You will not intervene. You will not put troops at risk.'"

Dallaire later learned that Clinton and the UN Security Council were reluctant to let him act because of what had happened in Somalia the year before.

In October 1993, an American special operations team launched a raid in Mogadishu, and two Black Hawk helicopters were shot down. Eighteen Americans, two UN peacekeepers and hundreds of Somali citizens were killed.

Rwanda mass graves could contain over 2,000 bodies from genocide
"There was a fear … that if I went in and did these things, that we'd end up in a firefight similar to Mogadishu, and I would take casualties," he said.

For two months, Dallaire kept asking the UN to let him take some limited actions to prevent violence.

"We were about to start doing them when the genocide started," he said.

Humiliation, mutilation and rape as acts of war

When the Rwandan president's airplane was shot down by a missile on the evening of April 6, 1994, Hutus blamed Tutsis. It was the spark that lit a bonfire.

Rwandan radio was full of calls to "destroy the cockroaches," meaning the Tutsis. Death squads roamed the streets. People were hacked to death by machete — a slow, brutal process.

"They realized that, 'Hey, why just try to kill them? It's such a hell of a lot of hard work, and there are so many of them.' So they would cut breasts off, Achilles heel, they'd hit them around the neck — enough for them to just not be able to move, to stay in the sun and bleed to death. They would do that even with children," Dallaire said.

"It wasn't just wanting to kill them. They wanted them to suffer."

The worst dimension, said Dallaire, was "the introduction of a weapon of conflict that is used extensively still, that is considered by [the] International Criminal Court as torture, as a crime against humanity, and that's rape."

Up to half a million women and children were raped, mutilated or murdered during the genocide.

After escaping Rwanda's genocide, this woman confronted the neighbour who handed her over to would-be killers
Even once the genocide was underway, members of the UN Security Council continued to debate whether Dallaire had the mandate to act.

In 1994, Lt.-Gen. Dallaire spoke frequently with Michael Enright, who was the host of As It Happens at the time. In this interview, less than a month into the genocide, Dallaire said he and his troops were trying to remain optimistic more help was on the way.
The Sunday Edition

'There is no desire to leave': May 4, 1994

On May 4, 1994, Dallaire told Enright he and his peacekeeping troops hoped they were the "advance party" to a larger force. 2:15
He remembers speaking with UN Secretary General Boutros Boutros-Ghali three weeks into the genocide, after more than 2,000 peacekeeping troops had already been withdrawn.

"He told me, 'Listen, the world cannot handle 450 peacekeepers being killed,'" said Dallaire.

"I had a responsibility to the lives of my soldiers. But I also had a responsibility to the people of Rwanda."

Aftermath

In mid-July 1994, the Tutsi guerrilla army finally prevailed. Hutus — both the guilty and innocents terrified of retribution — fled the country en masse.

In the aftermath, 40,000 people perished in cholera outbreaks in refugee camps.

Near the end of the conflict, Dallaire asked to be relieved of his command. He also began acting recklessly, hoping it might bring an end to his pain and guilt.

"Although I was ordered to have an escort, because of the death threats … I would escape from the headquarters and just go and drive," said Dallaire.

"I was always hoping that I'd end up in an ambush and I'd be killed."

After returning to Canada, Dallaire attempted suicide four times.

One night, after an emotionally gruelling therapy session, he bought a bottle of scotch, sat on a park bench and drank the whole thing. He spent hours crying and preparing to end his life.

'I remember crying and crying': Roméo Dallaire

Roméo Dallaire talks to Michael Enright about his suicide attempts

"I ended up walking in the park. I just barely made a couple steps, apparently, then I stumbled. Then I kept screaming for people to come and kill me," he said.

"I begged my sister-in-law, all the way to the hospital, and during the night when I woke up a couple of times. I kept screaming at her to find a way to kill me."

He woke up "sick as a dog," but alive. He channelled his pain and frustration into work.

"I worked and worked and worked to try to kill myself at work, because I wasn't succeeding in doing it any other way," he said.

AudioRoméo Dallaire on PTSD and the deaths of 4 Canadian soldiers

'A large part of my soul is still in Rwanda'

Dallaire threw himself into projects to prevent the recruitment of child soldiers, because he realized many of the atrocities he witnessed in Rwanda were perpetrated by children.

He is heartened by the growing human rights field, and believes NGOs are starting to have more influence on public opinion and policy.
"There is a generation out there, under 25 ... they don't need borders. They can understand the environment from a world sense, they can understand human rights from all sides," he said.

"I've become more and more convinced that one day we will resolve our frictions without having to use force and conflict … It might take a couple of centuries, but I'm certainly giving it a shot."

Dallaire said his desire to die finally ended a year and a half ago. But he believes he will never go back to being the person he was before the genocide.

"I still say a large part of my soul is still in Rwanda," he said.

See more...
Online Consultation – National Monument to Canada's Mission in Afghanistan / Consultation en ligne – Monument commémoratif national de la mission du Canada en Afghanistan

VVi 03 Jan 2020

(le français suit)

Dear Stakeholders and Advisory Group members;

As you may be aware, the creation of a National Monument to Canada's Mission in Afghanistan is currently underway. The Monument will recognize the commitment and sacrifice of Canadians who served in Afghanistan as well as the support provided to them at home. The Monument will be located in Ottawa, Ontario near the Canadian War Museum.

Many Canadians died as a result of their service in Afghanistan, including Canadian Armed Forces members, a diplomat, foreign aid workers, a government contractor and a journalist. Thousands of Canadians were also injured—physically and psychologically—during the mission.

At this time, we are consulting on design considerations for the monument via PubliVate Inc., an independent company who will host the online consultation on our behalf. The consultation will include questions on the Monument's objectives, its form and character, and the type of visitor experience sought. The questionnaire can be accessed here (https://canadaremembersafghanistan.ca/) and will be available from 2-20 January, 2020.

Your opinion is important. We encourage you to participate in the consultation and to promote and share within your organization and/or networks. Feedback received will help inform the Monument design guidelines, which will ultimately guide design teams in developing their concepts.

Later this year, you will have another opportunity to provide input through public consultations on the finalist teams' design concepts, prior to the selection and announcement of the winning Monument design. For more information about the National Monument to Canada's Mission in Afghanistan, we invite you to click here (https://www.veterans.gc.ca/…/afghanistan-remembered/monument).
Thank you.

The Honourable Lawrence MacAulay
Minister of Veterans Affairs and Associate Minister of National Defence
-------------------------------------------------------
Chers intervenants et membres des groupes consultatifs,

Comme vous le savez probablement, la création d'un monument commémoratif national de la mission du Canada en Afghanistan est en cours. Le monument reconnaîtra le dévouement et les sacrifices des Canadiens qui ont servi en Afghanistan, ainsi que le soutien qu'ils ont reçu ici au pays. Le monument sera situé à Ottawa, Ontario, près du Musée canadien de la guerre.

De nombreux Canadiens sont morts alors qu'ils étaient en service en Afghanistan, notamment des membres des Forces armées canadiennes, un diplomate, des travailleurs humanitaires étrangers, un entrepreneur gouvernemental et un journaliste. Des milliers de Canadiens ont également été blessés – physiquement et psychologiquement – au cours de la mission.

Nous avons entrepris des travaux en vue de déterminer les facteurs à prendre en considération dans la conception du monument. À cet effet, PubliVate Inc., une entreprise indépendante, a reçu le mandat de mener une consultation en ligne en notre nom. Celle‑ci comprendra des questions sur les objectifs du monument, sa structure et son caractère, ainsi que le type d'expérience du visiteur recherchée. Vous pourrez accéder à ce questionnaire du 2 au 20 janvier 2020 en cliquant ici (https://lecanadasesouvientafghanistan.ca/fr/).

Votre opinion compte. Nous vous invitons à participer à cette consultation et à encourager les membres de votre organisation et du réseau d'intervenants à faire de même. Votre rétroaction aidera à orienter l'élaboration des lignes directrices pour le monument, lesquelles serviront à guider les équipes de conception dans l'élaboration de leurs concepts.

Plus tard cette année, vous aurez de nouveau l'occasion de fournir une rétroaction par le biais de consultations publiques sur les concepts élaborés par les équipes finalistes avant la sélection et l'annonce de la conception retenue pour le monument. Pour en savoir davantage sur le Monument commémoratif national de la mission du Canada en Afghanistan, veuillez cliquer ici (https://www.veterans.gc.ca/…/afghanistan-remembered/monument).

Merci.

L'honorable Lawrence MacAulay
Ministre des Anciens Combattants et ministre associé de la Défense nationale
Quilts of Valour – Canada Society - National Sew Day February 2 2020

VVi 08 Jan 2020 no

Please circulate this announcement among your members.

This is a wonderful organization with amazing people who sew quilts for veterans. They appreciate everyone's support and encouragement, however great or small.

Thanks very much.

Jerry Kovacs

-------------------------------------------------------------------

Quilts of Valour – Canada Society National Sew Day

February 1, 2020

Make a Block – Make a Quilt – Make a Difference

We are thrilled to announce our 2nd Annual National Sew Day on February 1, 2020!

Gather with us to cut, iron, sew, quilt, and finish Quilts of Valour™ in this year's Brave and Bold pattern.

Quilts of Valour representatives and quilting groups in your area will set up locations and times.

For more information and updates on events in your area, contact your local representative https://www.quiltsofvalour.ca/contact.htm .

For patterns and more detail, check out the "what's new" section on our website https://www.quiltsofvalour.ca/

Quilts of Valour – Canada Society provides quilts handmade by volunteers to Canadian Forces members and veterans who experience illness or injury as a result of their service. For more information about donating, volunteering, or to nominate someone to receive a quilt, visit https://www.quiltsofvalour.ca/

See more...
Results of scientific inquiry into malaria drugs used by US troops expected in March

Patricia Kime
December 26, 2019

VVi 06 Jan 2020 db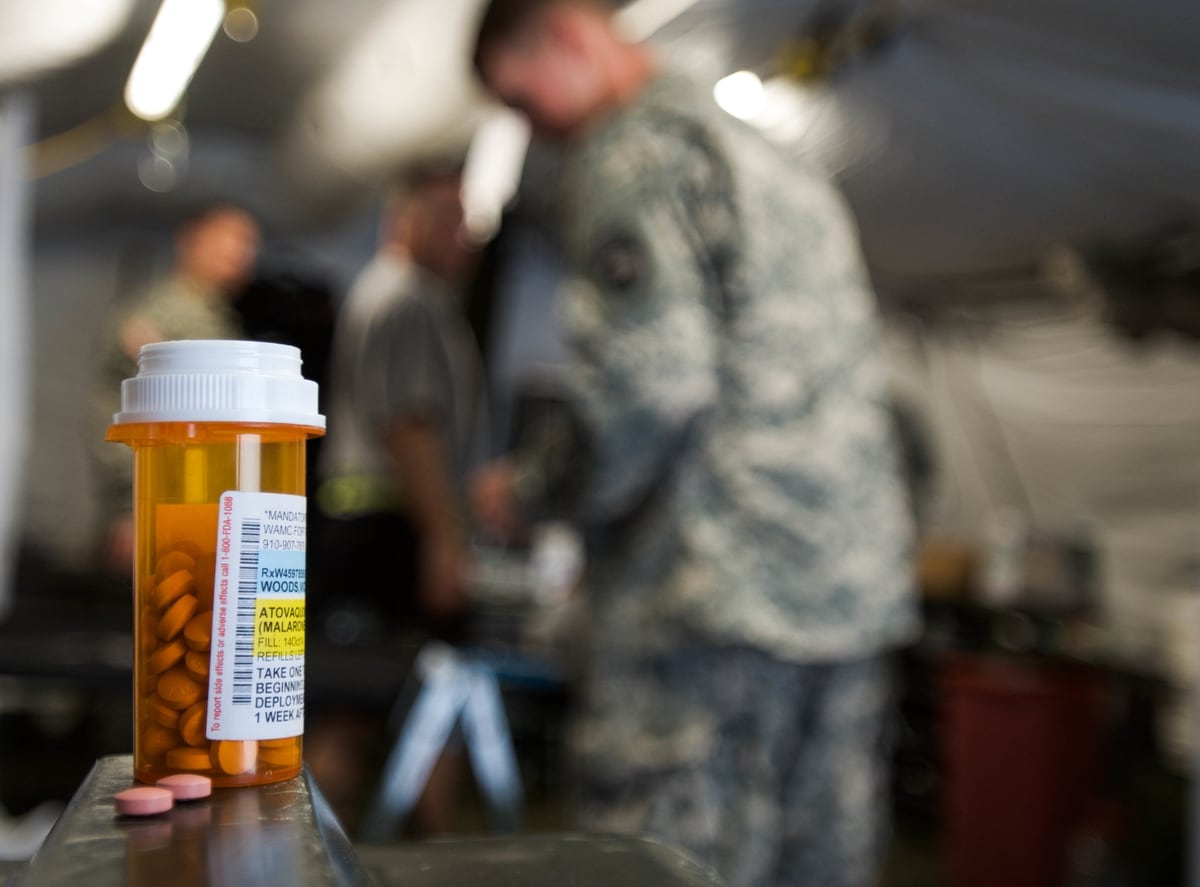 During the response to the Ebola epidemic in West Africa, troops were issued the medication malarone to prevent malaria. The National Academies of Sciences, Engineering and Medicine is reviewing the scientific evidence on whether ant-imalaria drugs can cause long-term health effects. (Staff Sgt. V. Michelle Woods/Army)

A scientific panel plans to publish next year the results of year-long study of anti-malarial drugs used by U.S. troops and other federal workers, a review greatly anticipated by former service members and Peace Corps volunteers who say their debilitating mental and physical health symptoms were caused by mefloquine, a once-a-week malaria preventive issued to thousands who served overseas.

At the request of the Department of Veterans Affairs, National Academies of Sciences, Engineering and Medicine researchers are examining existing scientific literature to determine whether anti-malaria drugs, including mefloquine, also known as Lariam, cause brain damage, neurological conditions or psychiatric disorders.

During a meeting of the panel earlier this year, military veterans and Peace Corps volunteers told members how their lives were shattered by mefloquine — a prescription they were ordered to take but frequently wasn't documented in their health records.

Marine Col. Timothy Dunn, who retired in 2018 after nearly 30 years of service, said he began experiencing vivid dreams, insomnia, anxiety, depression and "brain fog" as soon as he began taking mefloquine on deployment in 2006.

Since then, his symptoms have worsened, he said, to include vertigo, ringing in his ears and loss of balance.

"You have to do something to look at this closely and make a fair and just determination," Dunn told the panel. "There are many more than I who have had this problem."

Sarah Thompson, a Peace Corps volunteer in Burkina Faso from 2010 to 2012, said she was issued a large dose of mefloquine on arriving in the country and then took it once a week for two years.

She developed psychiatric symptoms, which she reported to her medical advisers, and later, disabling dizziness and vertigo. It wasn't until she returned home, however, that she learned of mefloquine's potential side effects because she never received the original packaging or instructions.

"It's been over six years since my return from West Africa and I continue to experience the side effects from this drug," Thompson told the panel March 27. "I know countless other volunteers who continue to struggle on a daily basis and who are on disability which can be confidently attributed to this drug."

U.S. service members routinely take malaria prophylaxis medications when deploying to countries where malaria is endemic, such as Afghanistan, Djibouti and throughout Africa. But anti-malarials also were prescribed in places where the mosquito-borne disease is not prevalent, such as Iraq, which has been malaria-free since 2008.

See more...