Suicide Hotline 1.800-273-TALK (8255)
Kids help phone number: 1 800 668 6868
CAF members assistance 1. 800 268 7708
CERB is TAXABLE income

Chanlika Holgersen
April 5 at 8:47 AM

VVi 08 Apr 2020 no

For everyone applying for the CERB tomorrow. It IS a TAXABLE income. Meaning you will be required to pay taxes on it. BUT - here's the kicker - they WILL NOT be taking off the required taxes! So if you receive the full $8000 over the next 4 months you must put aside $2400 (high tax bracket - most will fall in the lower tax bracket of 15% and will owe $1200) to pay back at tax time next year if you don't want it to bite you in the a$$! Money isn't free! Be smart!

EDIT: Wow I didn't realize how far this would reach. Editing to reiterate this is just a generalized margin for the higher tax bracket. Everyone will owe a different % of taxes in 2021 based on your 2020 income. I only posted this because believe it or not, I have friends who think the CERB is not a taxable benefit. Yes it is like EI, but where it differentiates is that EI will deduct the necessary taxes for you before putting the money in your pocket - CERB does not. The reasoning for this is to get the money in your pockets faster and they're not wasting time calculating everyone's 2019 income to see how much individuals are entitled to. Thank you. Disclaimer* I am not educated to give advice on EI/CERB benefits - just passing along information I got from a CPA relative so people aren't in for a shock come tax time next year - so please talk to a CRA representative if you're still confused.

Scams and phishing attacks about COVID-19 benefits

VVi 08 Apr 2020 no

(le français suit l'anglais)

Dear Stakeholders and Advisory Groups Members,

Due to the coronavirus disease (COVID-19) pandemic, there has been an increase in scams and phishing attacks about COVID-19 benefits.

As the Government of Canada introduces new supports for Canadians who are facing hardship during this time, we remind you to be vigilant when receiving phone calls, emails and text messages that refer to these new benefits. The best place to find information on Canada's Economic Response plan is at Canada.ca/coronavirus.

The best way to defend yourself against cyber-attacks is with information. If you can recognize the signs of a phishing campaign, you'll be better equipped to protect your personal information from cyber scammers.

Please visit Get Cyber Safe for details on signs of a phishing campaign, and how to stay safe.

Sincerely,

Stakeholder Engagement and Outreach Team
Veterans Affairs Canada
vac.engagement.acc@canada.ca

***********************************************************************
Chers intervenants et membres des groupes consultatifs,

En raison de la pandémie de maladie à coronavirus (COVID-19), les fraudes et les attaques d'hameçonnage au sujet des avantages offerts pour répondre à la COVID-19 ont augmenté.

Alors que le gouvernement du Canada met en place de nouvelles mesures de soutien pour les Canadiens aux prises avec des difficultés pendant cette période, nous vous rappelons d'être vigilants lorsque vous recevez des appels, des courriels ou des messages textes qui portent sur ces nouveaux avantages. Le site Web Canada.ca/le-coronavirus est le meilleur endroit pour trouver de l'information sur le Plan d'intervention économique du Canada.

Vous informer est le meilleur moyen de vous défendre contre les cyberattaques. Si vous pouvez reconnaître les signes d'une campagne d'hameçonnage, vous serez mieux outillés pour protéger vos renseignements personnels des fraudeurs potentiels.

Veuillez consulter Pensez cybersécurité pour savoir quels sont les signes d'une campagne d'hameçonnage et comment vous protéger.

Cordialement,

L'équipe de mobilisation et de sensibilisation des intervenants
Anciens Combattants Canada
vac.engagement.acc@canada.ca

Deal-Hacks SAVINGS TIPS & SHOPPING ADVICE
Canadian Military & Veteran Discount Guide: The Ultimate List

SEPTEMBER 23, 2019

VVi 20 Oct 2019

The Dealhack Canadian Military and Veteran Discounts List is the result of our quarterly survey of brands that offer discounts to all members of the Canadian Armed Forces. Every 3 months, our team independently verifies each and every discount on this list. We also add more brands to the list regularly when we come across them.

The list currently includes more than 80 brands conveniently broken down into 10 categories. You can also save or print the list to use as a handy reference.

Download the Canadian Military & Veteran Discounts List in PDF format here...

Note that in addition to the discounts listed below, many businesses offer informal discounts to military personnel and veterans across Canada. When buying something, always be sure to ask the store associate about whether or not they offer military or veteran discounts.
Were you Prescribed Mefloquine while in MilitaryService? Learn about the Lawsuit

Howie, Sacks and Henry LLP.

VVi 22 Aug 2019 db

During the 1990s, it was common for military personnel to be prescribed mefloquine, an antimalarial medication, when deployed to areas around the world where malaria was prevalent. However, issues with the drug have since been discovered causing some to be concerned. In fact, in 2016, Health Canada updated the warning labels for mefloquine, highlighting serious side effects – anxiety, paranoia, depression, hallucinations, psychotic behaviour and thoughts of suicide –which can persist for months or years after taking the drug.

A class action was commenced in 2000 against the Canadian Government; the case was dismissed for delay in April 2018.

HSH has partnered with Waddell Phillips as Co-Counsel to bring forth individual claims for any member, or former member, of Canadian Armed Forces who was ordered to take Mefloquine.

If you or a loved one is taking or has taken mefloquine and has experienced harmful side effects associated with its use, HSH personal injury lawyers Paul Miller and Michael Henry can help you to identify whether you may benefit from taking part in this legal action.

What's Being Done?
By prescribing mefloquine without following proper procedure for a clinical trial, and failing to inform our forces of the side effects, members of the military have suffered debilitating medical symptoms, some serious with long-term impact. HSH lawyers Paul Miller and Michael Henry, along with Waddell Phillips, want to hold the Canadian Government accountable.

The objective of the mefloquine lawsuit in Canada is to help its victims receive compensation for the drug's harmful effects and for being part of a clinical trial that didn't follow proper procedure despite potential risks. As a mass tort litigation, cases proceed on an individual basis.

Helping You

HSH lawyers can help you create a claim for compensation and damages based on the pain, suffering and losses you have experienced after experiencing side effects from a drug. If you or a loved one has been prescribed mefloquine and have experienced harm as a result, HSH can explain your rights and determine whether you may benefit from participating in this mass tort litigation.

Learn More

Click here to learn more about the Mass Tort Action and Town Hall Meetings in your area...

See more/Seek legal assistance...
WELCOME TO VETSSPACE ONLINE - A PRIVATE SOCIAL MEDIA SITE DEDICATED TO SERVING/VETERAN MILITARY, FIRST RESPONDERS AND THEIR FAMILIES

Accounts are free for veterans, serving members and the immediate family of the military, police, ambulance and coast guard, etc.

Open in new window...
News Release Canada Army Run is on the move! New location!

Ottawa – National Defence / Canadian Armed Forces
May 9, 2019

VVi 08 Jun 2019 no

As a result of a new partnership, Canada Army Run race weekend is moving to the Canadian War Museum. Having previously been hosted at Ottawa City Hall, all Army Run events will now take place at the Canadian War Museum, located on the scenic Ottawa River and LeBreton Flats parkland. This new venue will allow runners and visitors to have a fuller experience of Canada Army Run's military origins.

Canada Army Run race weekend kicks off on Friday, September 20 with race kit pickup. It continues on Saturday, September 21 with the Running Room Expo, the Juno Challenge obstacle course for kids, and exhibits of historic military armaments and current military equipment. Race weekend will culminate on Sunday, September 22 with five separate running events.

Since its inception in 2008, Canada Army Run has grown to become one of the largest running events in Canada, attracting more than 20,000 runners of all ability levels to run, roll or walk the 5K, 10K and half-marathon courses. For those looking for a more serious test of their physical mettle, the Commander's Challenge and Normandy Challenge combine multiple events in a demanding run.

Canada Army Run raises money for two of the Canadian Armed Forces' charitable funds – Soldier On Fund, which assists ill or injured soldiers, and Support Our Troops Fund, which benefits military families in need.


See more...
Latest VVi Periodical Issue No: 201993: Mefloquine

Latest VVi Periodical, see... http://veteranvoice.info/archive/Periodicals/Periodical_19Apr_2.htm

See other VVi Periodicals... http://veteranvoice.info/VVi/WebPages/3latestperiodical.html

Canadian Mefloquine(Lariam) Veteran Support

By way of introduction, my name is Paul Miller and I am a partner with the law firm of Howie Sacks & Henry in Toronto. My firm along with the firm of Waddell Phillips has been retained by a Veteran who has been adversely impacted as a result of taking Mefloquine while with the Canadian Armed Forces. We are in the initial stages of the matter, but we believe that there is an avenue for individual cases to be brought by soldiers injured by taking Mefloquine at the direction of the Canadian Armed Forces. We are more than happy to discuss your possible case with you. Feel free to call us at 1-877-771-7006. Feel free to email myself at pmiller@hshlawyers.com, or mjhenry@hshlawyers.com.

See FaceBook site...
Go Fund Me I am fighting for the freedom of expression of all veterans, journalists, and other Canadians.





I am fighting for the freedom of expression of all veterans, journalists, and other Canadians.

Please, I need your help to fight on their behalf.

For the past 20 years I have called government to account in its mistreatment of disabled veterans and their families. Recently, when I wrote about the unfairness in the upcoming Pension For Life programs in The Hill Times (Sean's article here) , Minister of Veterans Affairs, Seamus O' Regan, rather than debating the facts, instead took the low road to attack my reputation and credibility (Minister's article here ).

Accusing a journalist of "stating mistruths" cuts to the core of any journalist's professional credibility. By attacking me, he sent a strong message to others, especially veterans, who would question government's treatment of veterans.

I was left no option but to sue the Minister for defamation (Sean's claim here) . If government could silence me, then government could bully so many others into silence.

Next Steps?

The government recently won a ruling to dismiss my lawsuit by using an obscure law, ironically, meant to protect little guys from big guys. This was likely the first time a big player used it to silence a little player.

We believe the justice who heard the case erred on all counts (Decision here) . Our notice of appeal filed by renowned and highly respected human rights lawyer Paul Champ , demonstrates this (Notice of Appeal here).

We therefore have good chances for the Ontario Court of Appeals to overturn the dismissal. Then we can go ahead and put Minister Seamus O'Regan on the stand to explain why he ignored his own department's advice on multiple occasions informing him and/or his staff that my article was largely correct and accurate (internal emails to be posted soon).

Even though he ignored his own government's advice, his legal bill is paid for by the same government system.

Why Small Claims Court?

Initially, I self-represented in small claims court because I wished to set an example for the little guy like other disabled veterans and freelance journalists. They too can stand up to government intimidation in the informal setting of small claims court.

We also aren't out to make a fortune. We wish to make a strong statement:
unacceptable actions by politicians and bureaucrats must have consequences.

We kept our claim at $25,000. In Ontario, all claims $25,000 or less must be heard in small claims court.

Who is Sean Bruyea?

As a disabled veteran from the first Gulf War, I have overcome many obstacles beyond my own symptoms (CBC article here) .

I have spent the last 20 years dedicated to shining a light on government's mistreatment of some of our most vulnerable and marginalized Canadian citizens: disabled veterans and their families (link to Sean's 110+ published articles here ) .

I have suffered consequences in his fight on behalf of others. Nevertheless, I did not and will not give up (Privacy Violations here and Sean's successful claim -also represented by Paul Champ-here)

Silence has never been an option for me when I witness such injustices.

Sean Bruyea

See the GoFundMe page...

See Sean's page...
"A veteran's right to seek an appeal to a decision should not be limited by his or her financial means."

https://veteranslegalassistance.ca

VVi 31 Dec 2018 db no

"A veteran's right to seek an appeal to a decision should not be limited by his or her financial means."

Peter Stoffer
Former Member of Parliament

"As lawyers, we are often introduced to people and organizations that have difficulty gaining access to justice due to their personal financial situation."

Peter Driscoll
Counsel, McInnes Cooper

Our Mission

To provide financial support to Canadian veterans, so they can pursue disability claims and other legal cases that will broadly benefit fellow veterans nationally.

See website...

A Message from Dennis Manuge

by veteranslegal
December 31, 2018

Dear Veterans and Family Members:

Wishing you a wonderful and happy new year! I am hopeful that the VLAF will enable vets and our families to pursue justice within the legal system, and enhance our lives while standing up for ourselves and others.

Access to justice is an important aspect of being a Canadian, and the positive legacy of the SISIP LTD Class Action can inspire others and encourage all Canadians to stand proud, while utilizing legal resources that otherwise might not be available.

One person can make a difference and promote a ripple effect than can positively impact many others.

Warm regards,
Dennis Manuge
Lead Plaintiff, SISIP LTD Class Action

CANADIAN MILITARY NEWS http://canmnews.ca/
See... http://canmnews.ca/
Indigenous Service Members and Veterans

VTN
VVi 05 Aug 2018 nb

We recognize the unique experiences of Indigenous Service Members and Veterans.

Indigenous Veterans have a strong history of service in the Canadian Forces. With this service comes unique experiences and challenges both in uniform and in the transition to civilian life. We salute all First Nations, Inuit and Métis Veterans for their contributions and service to Canada!

That's why we've created The Men's Indigenous Veterans Transition Pilot Program. This program is a place to heal alongside fellow Veterans while exercising spiritual and traditional identities.

This September, we invite you to join us.

The Men's Indigenous Veterans Transition Pilot Program is based on our internationally recognized, research-backed Veterans Transition Program (VTP). Delivered in partnership with True Patriot Love, this one of a kind program will be facilitated by psychologists who've received special training in Indigenous military issues and co-led by VTP Graduates who are Indigenous Veterans themselves. All expenses, including travel, will be covered.

https://vtncanada.org/indigenous-program/

See more...
Operation Medusa

The Furious Battle That Saved Afghanistan from the Taliban

BY MAJOR GENERAL DAVID FRASER & BRIAN HANINGTON
FOREWORD BY GENERAL LORD DAVID RICHARDS
Publisher: McClelland & Stewart

From the Canadian in charge of the joint military command in Kandahar Province in Afghanistan, this is the real on-the-ground story of one of NATO's bloodiest, most decisive and misunderstood operations: The battle of Panjwayi, the defining moment of "Operation Medusa."
The Last Post Fund's mission is to ensure that no Veteran is denied a dignified funeral and burial, as well as a military gravestone, due to insufficient funds at time of death.

See more... http://www.lastpostfund.ca/
Wounded Warriors Canada

Nonprofit Organization

November 15 at 12:48pm

There have been 48 reported Veteran and First Responder suicides this year, 25 of which have occurred since June. When you include Corrections Officers, the number is even higher. This devastating reality is a concrete reminder of the fact that Operational Stress Injuries know no theatre of war, no critical incident, or emergency call. It is why today, at a presentation to the Alberta Association of Chiefs of Police, we are announcing a new initiative called In This Together, which is aimed at raising awareness about the need for enhanced mental health program support for our uniformed service members and their families.

We have published an Op-Ed that has been distributed nationally and can be read here: https://woundedwarriors.ca/…/upl…/In-This-Together-Op-ed.pdf

When injuries are sustained, it doesn't matter where, when or how they occurred. What matters is that the individuals and their family members know that we, as a country and community, are in this together – working to ensure they receive the help they so rightly deserve. Join our mission, share this news, help however you can...because when it comes to the health and well-being of those who serve our country at home and abroad, we have to be in this together. #INTHISTOGETHER

See more On Wounded Warriors Canada...
Suicide Prevention Manual (VAC-DND) Release Oct 2017

VVi 07 Oct 2017 db

See...http://veteranvoice.info/archive/archive_17Oct_DGM-23817-TK8_CAF-VAC_SuicidePrevention_EN_FINAL.pdf

Or, go to the VVi Self Help page...

See more on CTV coverage...
Veteran Transition Network (VTN)

Knowing that someone you trust has your back is a pretty big deal.

When entering the civilian world, many Vets are struck by the relative lack of camaraderie, structure, goals, and responsibility. It's not unusual to end up feeling isolated and alone as a result.

We know how important it is to be around people who know what your world is really like. This is why our programs take place in private locations, co-led by graduates who are Veterans themselves.

Facilitated by psychologists & counsellors who've received specialized training from us in military issues, our charitable programs are backed by university research and 17 years of experience.

1-844-CDN-VETS (236-8387)

See more on VTN...
Welcome to the International Mefloquine Veterans' Alliance website.

The International Mefloquine Veterans' Alliance is a network of veterans, families and friends affected by the health impacts of the neurotoxic drugs – mefloquine (trade name Lariam) and tafenoquine.

The aim of this website is to provide information and support for those dealing with the complex and debilitating health impacts of mefloquine and tafenoquine toxicity.

Our current objectives are to:

• Raise awareness of mefloquine and tafenoquine, their impacts on the health of veterans, serving military personnel, their families and friends.

• Advocate for the provision of proper health care for veterans and families affected by mefloquine and tafenoquine toxicity, including the development of clinical guidelines for diagnosis & management, and comprehensive rehabilitation programs.

• Provide outreach and support for veterans and families affected by mefloquine and tafenoquine neurotoxicity.

• Advocate for the banning of mefloquine use in military forces worldwide.

• Prevent the introduction of tafenoquine in military forces worldwide.

Go To....https://imvalliance.org/


Effective leadership and training, proper equipment, and mission-critical interoperability are key to getting the job done for Canada. Our military forces need the best possible protection to have the full confidence to be decisively effective in completing their dangerous missions abroad, and to make a difference on the home front when we need them.

See FrontLine online... http://frontline.online/
A Canadian Infantry Platoon Commander's story in Sectors West and South of Croatia in 1993, including the Medak Pocket.

Created by Alfie Bloggins

58 backers pledged CA$ 4,938 to help bring this project to life.

Pledge support to this project...
https://www.kickstarter.com/projects/nopeacetokeep/no-peace-to-keep-by-alfie-bloggins-medak-pocket
Calgary, Alberta Psychologist



There have been a lot of recent veterans' inquiries into finding a good psychologists in the Calgary area. I have been with a Dr. Brian Shustack for over 15 years, and he has been excellent. He is very knowledgeable on PTSD and other OSI. He understands soldiers and veterans, as he himself is also a veteran. I highly recommend him. Contact details are as follows:

Dr Brian Shustack
Ph.D., R.Psych
403-817-7669
Military Personnel Baggage Allowance with West Jet and Air Canada

Are you planning the vacation of your dreams this summer but can't seem to cram all your belongings in one suitcase? Well, not to worry because if you're travelling via Air Canada or WestJet, former and currently serving Canadian Armed Forces (CAF) members are entitled to extra baggage allowance.

When flying Air Canada, Air Canada Rouge or Air Canada Express, veterans, CAF members, and U.S. military members can check up to three pieces of baggage weighing up to 32 kg each.

The offer applies when a member is travelling both on duty and for personal reasons.

The airlines require valid military ID before confirming eligibility. ID must be presented to a customer sales and service agents at the airport. Therefore, self-service check-in does not atomically apply for the increase baggage allowance.

"Eligible members of the military must continue to use self-service (kiosk, web, mobile) however to initiate check-in; baggage tags according to the standard ticket allowance must be printed at an airport kiosk, if available. To obtain baggage tags for any additional baggage over and above the standard ticket allowance up to three pieces, eligible members must proceed to Check-in Assistance at kiosk-equipped stations or Economy Class at non-kiosk stations and present a valid military identification card," states the Air Canada policy.

When travelling via WestJet, both former and currently serving CAF members are entitled to four pieces of luggage free-of-charge. Those four pieces have a maximum weight limit of 23 kg each.

"We appreciate our Canadian military's service to our country and our proud to offer this gesture as a token," said Lauren Stewart, Media Relations WestJet.

Acceptable forms of ID include:

- DND ID card for National Defence (NDI 20)

- Record of Service Card (NDI 75)

- Any Veterans Affairs Canada (VAC) Benefit Card

- Discharge Certificate from any branch of the Canadian Military

- Statement of Service from any branch of the Canadian Military

- Certificate of Service (CF 54 or CF 75) from any branch of the Canadian Military

- Valid DND Temporary ID card (NDI 10)

Canadian Forces or Former member CFOne card (with photo ID)

See more...
FREE PREVIEW - RUDE AWAKENING: THE GOVERNMENT'S SECRET WAR AGAINST CANADA'S VETERANS
Colonel (retired) Pat B. Stogran
Following a military career of over thirty years, which includes deployments to Bosnia and Afghanistan, Colonel Pat Stogran becomes Canada's first Veterans Ombudsman. The new Office of the Veterans Ombudsman is intended to be a symbol of Canada's commitment to the members and veterans of the Canadian Forces, who accept unlimited liability in the service of our country and often make traumatic, life-altering sacrifices. Colonel Stogran is proud to take the assignment, seeing it as an opportunity to give back to all those who serve. But in the next three years, as he encounters nothing but intransigence and malfeasance in the hallowed halls of government, he undergoes a rude awakening to the cesspool of callousness, deceit, and neglect that is the Government of Canada's response to the needs of its veterans. Stogran's exposure to the real Government of Canada, which is hidden from the view of mainstream Canadians, reveals that it is nothing like the myth that has been built up around it as a caring and committed model for the rest of the world. It is an experience he describes as more traumatic than the years he spent in war zones, and it will cause him to question what it really means to be a Canadian. Part shocking exposé, part dire and urgent warning, Rude Awakening reveals a culture of government that victimizes our veterans and could also very well threaten the quality of life we all enjoy as Canadians.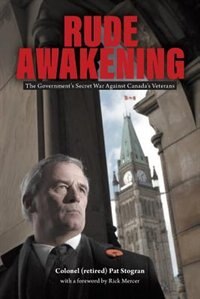 Paperback | December 18, 2015

byColonel (Retired) Pat B. Stogran

VVi 06 Oct 2016

See more...
To purchase see... http://www.amazon.ca/Rude-Awakening-Governments-Against-Veterans-ebook/dp/B019PIKNTK
PAT'S BOOK IS AVAILABLE VIA AMAZON:
https://www.amazon.ca/Rude-Awakening-...
Government of Canada: Call for full, Public Judicial Enquire - CFB Gagetown Chemicals

VVi 26 Nov 2016

Why this is important

From 1956 through 1985 Canada sprayed it own soldiers with Agents Orange, Purple and White.

They sprayed 1.1 million liters and over 2.2 million pounds of the identical chemicals used in Vietnam.

Some soldiers were directly sprayed and others were sent into sprayed areas shortly there after.

Many have died many more are very sick, Canada has not even bothered to check on the damage they did.

Sign the petition...
Support them and support all veterans
In 2011, a group of concerned Canadians formed the Equitas Disabled Soldiers Funding Society (Equitas Society – meaning "Equality"), incorporated pursuant to the Laws of British Columbia, in order to provide these services to our disabled soldiers.
a) To raise the awareness of the reduced disability benefits provided to our disabled Canadian soldiers as result of the 2006 New Veterans Charter,
b) To raise the funds necessary to pay for the legal disbursement costs of the disabled soldiers who have retained the law firm, Miller Thomson, to address their reduced disability benefits in the courts.
- See more at: http://equitassociety.ca/#sthash.Pz2dK3ej.dpuf
See more... http://equitassociety.ca/
Vigil Canada's Sacrifice in Afghanistan Hardcover – 2014

VVi 27 Jun 2016


by Rod McLeod (Author), Norman Leach (Editor)

See page...
Veteran Aide Memoire
This Aide Memoire is strictly to be used as a guide for ALL veterans. It is a 'field' manual for veterans' quick access to the outstanding issues.
Feed back to publisher@veteranvoice.info is always welcomed.
Download the Veteran Aide Memoire:
http://veteranvoice.info/ARCHIVE/aide_Memoire/Vet_Aide_Memoire.pdf